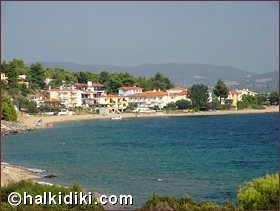 Psakoudia is the seaport of Ormylia and its face to the sea, where pine forests and olive groves give way to a sunny, sandy beach.
Despite its small size, the village's four kilometre long beach offers many rooms to rent as well as camping facilities. The local taverns serve fresh fish in a pleasant atmosphere and afterwards, you can chose from the seaside bars to go for drinks.
The area's natural beauty attracts visitors and Psakoudia usually serves as a base for exploring the mountains of Halkidiki.