The sunset casts a faint veil of mystery over the picturesque seaside village of Nea Roda as it slips over the tiled roofs of the houses. Go up the hill with the small church and gaze at the village· the view will reward you.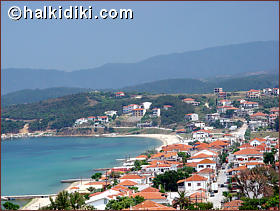 Nea Roda is built at the narrowest point of the Athos peninsula, where in 480 B.C. Xerxes opened a canal for his fleet to pass. You shall be pleasantly surprised while walking in the village because at each corner you will discover archeological findings, houses with beautiful yards decorated with arbours and bougainvilleas, vegetation till the sea and picturesque fishing boats. The golden sand of the sinuous beach will accompany you all day and will welcome you with colors of mystery at each sunrise and sunset.
Those who love sea activities will find a sea sports rental and learning school while there is everyday transportation for those of you who wish to go on a sea tour around the Holy Mountain (Again Oros).
In the traditional tavernas, you will find fresh fish and for your entertainment at night, there are clubs for all preferences. For your stay, you can choose rooms to let or apartments with a view of the sea and friendly service by the owners.