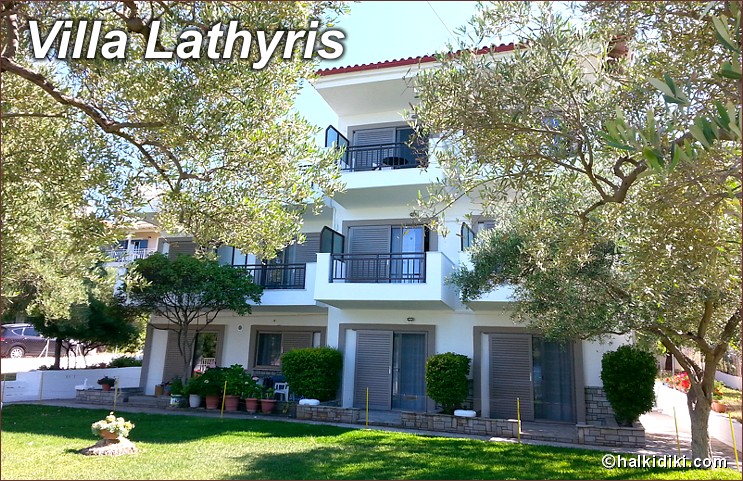 "Villa Lathyris" is a family business of 7 apartments situated in the peninsula of Kassandra, Halkidiki, 95 km from the center of Thessaloniki, in the middle of the distance between Polychrono - Kriopigi.
The building is situated within a private olive trees garden of 2000 m², only 20 m from its quite beach with the magnificent sea. In front of the building and right next to the beach, a private children's playground is located.

"Villa Lathyris" is comprised of 2 studios and 5 apartments of 2 rooms. The studios are 20 m² and allocate 1 double and 1 single bed. The apartments are 30 m² and consist of 2 rooms, one with a double bed and another one with 2 single beds. All studios and apartments comprise an equipped kitchen, fridge, bathroom, shower, flat LCD television, balcony or veranda with excellent direct view to the beach and the sea, private air-conditioning, net doors for protection against mosquitoes, wireless free internet access.
Other amenities include a private open-air parking area for all studios and apartments at the back of the building, barbeque area and sun beds (two per apartment/studio). Bed sheets are changed every 4 days.

Kassandra has a highly developed tourist infrastructure that can guarantee relaxing and pleasant stay for all visitors. "Villa Lathyris" can be easily found if you follow the low circulation old road that connects Kriopigi and Polychrono and begins 100 m after the entrance of "Kassandra Palace" Hotel, to the left of the national road Thessaloniki-Polychrono. You will see "Villa Lathyris" to your right, approximately 400 m after entering the old road.
Prices vary from 40 to 80 euros depending on the type of apartment and the holiday period (high, medium or low season).


Free Internet Access
Distances
90 km from Thessaloniki airport
2 km from Polychrono village
2 km from Kriopigi village
10 km from Health Center of Kassandra
2 km from the closest supermarket
VILLA LATHYRIS
Polychrono
Kassandra
Halkidiki
Greece
Zip 63085
MH.T.E. : 09.38.K.11.1K.00995.0.0
Contact Person
Nikos & Vasiliki
Tel (+30) 2374053140 (April - September)
Tel (+30) 2310317433 (October - March)
Fax (+30) 2374052837
Mob (+30) 6937040454
E-mail: villalathyris@gmail.com
---
| Home | Back | Greek | Русский | Deutsch |
Copyright © 1997 - 2023 halkidiki.com. All rights reserved.
All content is property of respective owners.
Unauthorized reproduction by any means is strictly prohibited.