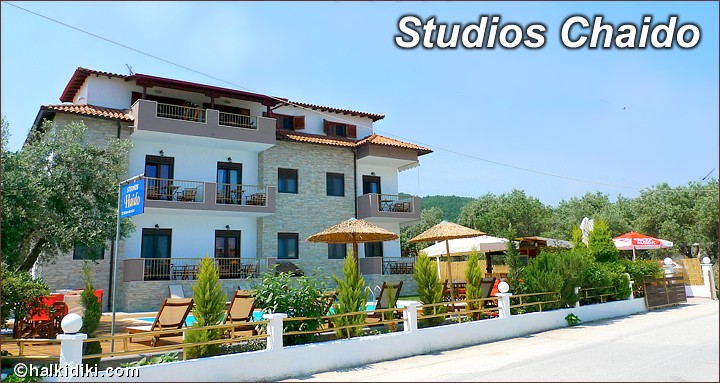 HAIDO Studios are located amidst the olive groves, half a minute walk from the sea at Vourvourou.
Our studios have been designed with windows at opposite sides of the house to allow through passage of air and have fully equipped kitchens, air conditioning, TV, bathroom and verandas looking out over the sea. Each studio can accommodate up to four persons in one double bed and a separate room with two bunk beds.
Covered parking is available for guests and the grassy garden is fenced in so our young guests can enjoy their games in the playground while the adults are using the barbecue and enjoying the peace and quiet of the countryside.

The shallow, warm waters of the sandy beach are perfect for young children and we invite you to come and enjoy our hospitable and pleasant environment for unforgettable holidays.


Free Internet Access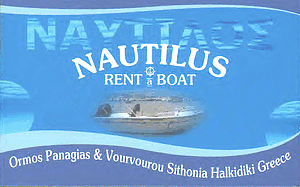 Here you can rent a small boat without the need of a license.
If you are staying at "Studios Haido" you get a 10% discount.
Normal price for a 4 persons boat: 65 Euro per day
Normal price for a 5 persons boat: 85 Euro per day
STUDIOS HAIDO
Vourvourou
Sithonia
Halkidiki
Greece
Zip 63078
MH.T.E. : 09.38.Κ.12.2Κ.01247.0.0
Contact Person
Ioannis Pavloudis
Tel. (+30) 2375091467 (May - September)
Tel. (+30) 2375031572 (October - April)
Mob (+30) 6944870071
E-mail: jopahannes@gmail.com
---
| Home | Back | Greek | Deutsch |
Copyright © 1997 - 2022 halkidiki.com. All rights reserved.
All content is property of respective owners.
Unauthorized reproduction by any means is strictly prohibited.