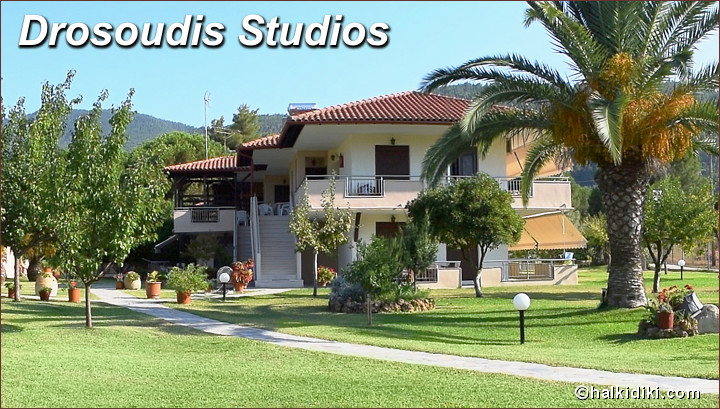 The "DROSOUDIS" family-run rental studio apartments are located in the centre of Vourvourou, in 2500 m2 of lush green grounds.
The studios can accommodate up to three person, and larger groups of up to 5 persons can be accommodated in the apartments.
All studio and apartments have been furnished with fully equipped kitchens, fridge, bathroom/toilet, TV, air-conditioning (A/C) and verandas.
Kiosks, grills, children's playground and private parking facilities are all available on the grounds.
In a walking distance from the complex, there are restaurants, pizzerias, supermarkets, souvenir shops, international and Greek press, etc.
The sandy beach is only a couple of minutes' walk.


Free Internet Access
STUDIOS DROSOUDIS
Vourvourou
Halkidiki
Greece
Zip 63078
Contact Person
Mary Drosoudi
Mob. (+30) 6976778986
E-mail: drosoudis@halkidiki.com
---
| Home | Back | Greek | Deutsch |
Copyright © 1997 - 2020 halkidiki.com. All rights reserved.
All content is property of respective owners.
Unauthorized reproduction by any means is strictly prohibited.